If you are here in search of the Greenville County Schools Calendar then you have come to the correct platform because here we have added the school calendar for this academic year. It is important to note that 2023-2024 School Calendar is released now and available for free download in PDF format. Download and print the school calendar from this page and begin the process of planning or managing your school work activities. Accomplish all your academic work goals and objectives by planning academic or school work.
Greenville County Schools Calendar 2023-2024
You can check out the preview or image of the Greenville County Schools Calendar below for the academic year 2023-2024. The purpose of using a school calendar is to keep a check on the dates of the academic events and plan the school work activities. Check out the calendar preview below and download it from the main website of the school. Do keep a check on the school website for all the latest updates and notifications related to the school calendar.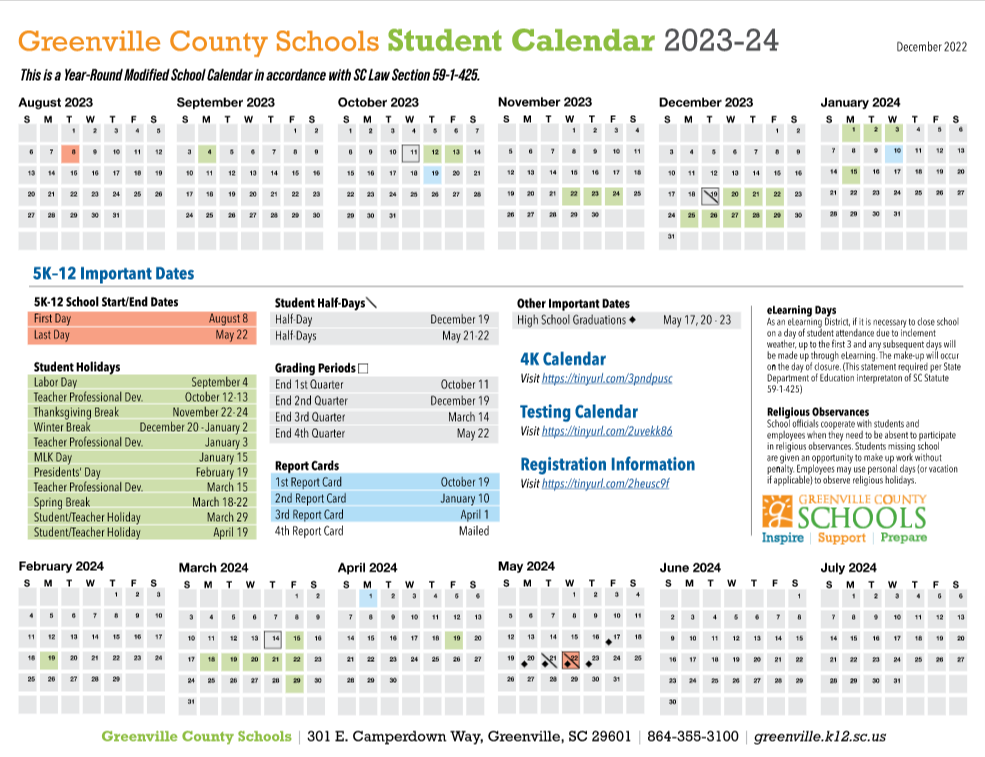 Download Links:
Greenville County Schools Major Holiday Dates
The dates of the major holiday breaks such as Fall Break, Thanksgiving break, Christmas break, Mid Winter Break, and Spring break are mentioned in a table below. It is essential to keep a check on these holiday dates because only then you will be able to plan your school holidays and make the most out of them.
2023-2024 Major Holidays
School Holidays
Starts
Finishes
First Day of School
8 Aug 2023
(Tue)
Fall Break
12 Oct 2023
(Thu)
13 Oct 2023
(Fri)
Thanksgiving Break
22 Nov 2023
(Wed)
24 Nov 2023
(Fri)
Christmas Break
20 Dec 2023
(Wed)
3 Jan 2024
(Wed)
Spring Break
15 Mar 2024
(Fri)
22 Mar 2024
(Fri)
Last Day of School
22 May 2024
(Wed)
About Greenville County Schools
Greenville County School District (GCSD) is a public school district in Greenville County, South Carolina (USA). It is the largest school district in the state of South Carolina and the 44th largest in the US.
Just like any other academic year, the school has released the school calendar for year 2023-2024 as well. A school calendar is available on the website and the link is shared here. Check out the information below to know the major holiday dates and see the calendar preview as well.
Important Note: newschoolcalendar.com is not the official website of any school, this is just an informational website that provides information related to school calendars and holidays. Do check your school's official website for an up-to-date and updated school calendar.