The school calendar of the Los Angeles Unified School District is out now on the official website of the school and here you can download the same. We have shared the preview of the school calendar along with a link to download it. The link of the school's official website is shared here from where you can easily download the updated version of the school calendar, print it, and start using it.
All Students and teachers can use the school calendar to plan their working schedules. Even parents can use a school calendar in order to keep a check on the academic dates and help their kids in making a work plan or schedule for the entire academic year 2023-2024.
Los Angeles Unified School District Calendar 2023-2024
Below you can see the image of the Los Angeles Unified School District Calendar that is now available. You can download this calendar in PDF from the link shared below. Print-out the school calendar for your use.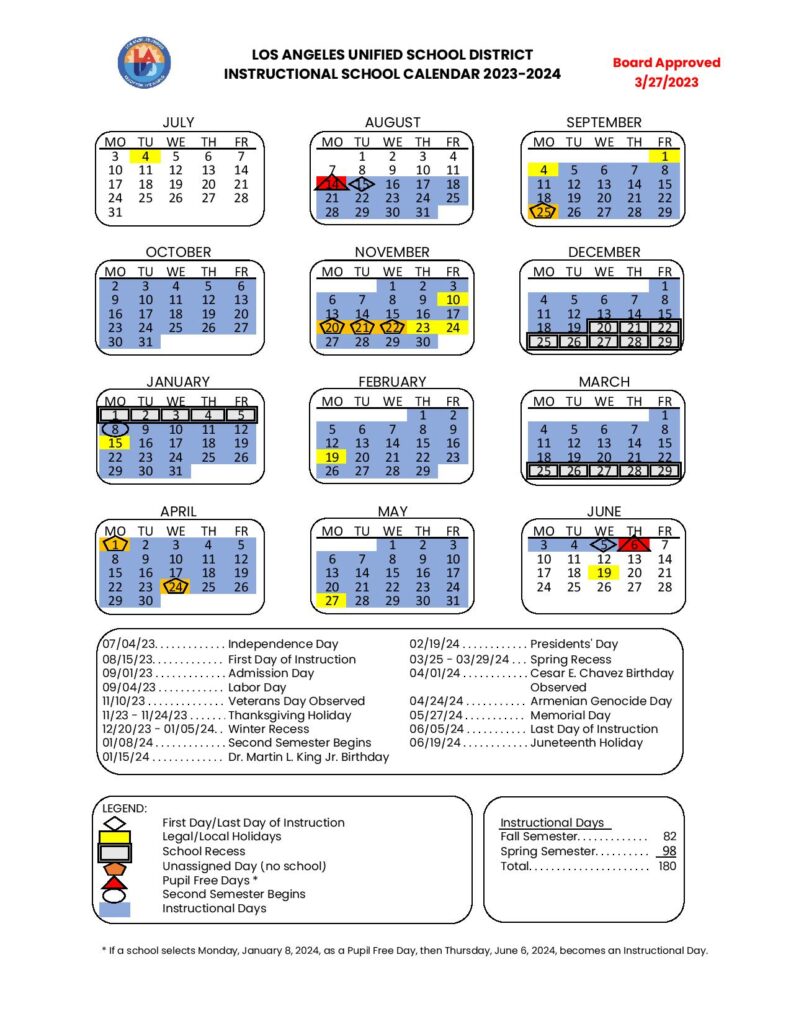 2023-2024 Calendar Link: Download Calendar in PDF
School Website: https://achieve.lausd.net/
Los Angeles Unified School District Major Holiday Breaks
The dates of the Los Angeles Unified School District Major Holiday Breaks are mentioned in the table below. These are only the major holiday breaks, you need to check out the school calendar for complete holiday details. Also, check out the dates of the first and last day of school.
2023-2024 Major Holidays
School Holidays
Starts
Finishes
First Day of School
Tue, 15 Aug 2023
September Break
Fri, 1 Sep 2023
Mon, 4 Sep 2023
Thanksgiving Break
Mon, 20 Nov 2023
Fri, 24 Nov 2023
Christmas Break
Wed, 20 Dec 2023
Fri, 5 Jan 2024
Spring Break
Mon, 25 Mar 2024
Fri, 29 Mar 2024
Last Day of School
Wed, 5 Jun 2024
So these are the major holiday breaks. It is important to keep yourself updated about the upcoming holiday breaks because only then you will be able to plan them well. Planning holidays is also important in order to make them more fun and productive as well.
About Los Angeles Unified School District
Los Angeles Unified School District (LAUSD) is a public school district in Los Angeles, California, United States. It is the largest (in terms of number of students) public school system in California and the 2nd largest public school district in the United States.
During the 2022–2023 school year, LAUSD served 565,479 students, including 11,795 early childhood education students and 27,740 adult students. During the same school year, it had 24,769 teachers and 49,231 other employees. It is the second largest employer in Los Angeles County, after the county government.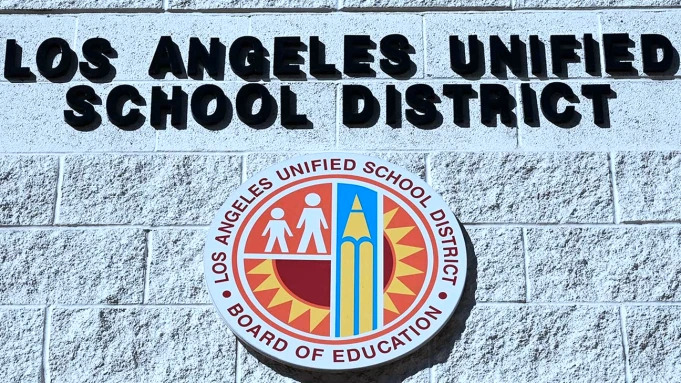 Students are involved in many academic work activities, therefore, it becomes essential to plan academic work in order to have everything organized properly. Every student must have this small habit of planning his or her work. As a parent or guardian, you should always encourage your kid to plan his or her work activities.
Important Note: newschoolcalendar.com is not the official website of any school, this is just an informational website that provides information related to school calendars and holidays. Do check your school's official website for an up-to-date and updated school calendar.