Yonkers Public Schools is a school district that serves all of Yonkers, New York, United States. If you are a part of this school district then check out the Yonkers Public Schools Calendar and download it for your use. A school calendar is one such document that is essential to keep a check on the dates of the academic events and holidays. Academic work planning is not possible without keep a check on the academic dates, therefore, make sure to download or print a copy of your school calendar and plan your academic work activities accordingly. Print your school calendar now.
Yonkers Public Schools Holiday Calendar 2023-2024
The school calendar of Yonkers Public Schools has many holiday breaks such as Thanksgiving, Christmas/winter, and spring breaks. The dates of these holiday breaks are mentioned in a table below along with the dates of first/last day of school. Only the major holiday breaks are specified below, check the full school calendar for complete academic and holiday dates.
Major Holidays 2023-2024
School Holidays
Starts
Finishes
First Day of School
Thu, 7th Sep 2023
Thanksgiving Break
Thu, 23rd Nov 2023
Fri, 24th Nov 2023
Christmas Break
Mon, 25th Dec 2023
Mon, 1st Jan 2024
Mid Winter Break
Mon, 19th Feb 2024
Fri, 23rd Feb 2024
Spring Break
Mon, 25th Mar 2024
Mon, 1st Apr 2024
Last Day of School
Wed, 26th Jun 2024
Yonkers Public Schools Calendar 2023-2024
Yonkers Public Schools Calendar preview is shared below for the academic year 2023-2024. The link of the school website is shared from where you can download the school calendar and take a print-out for your use. Get hold of all your academic work by planning it and accomplish the desired academic goals or objectives.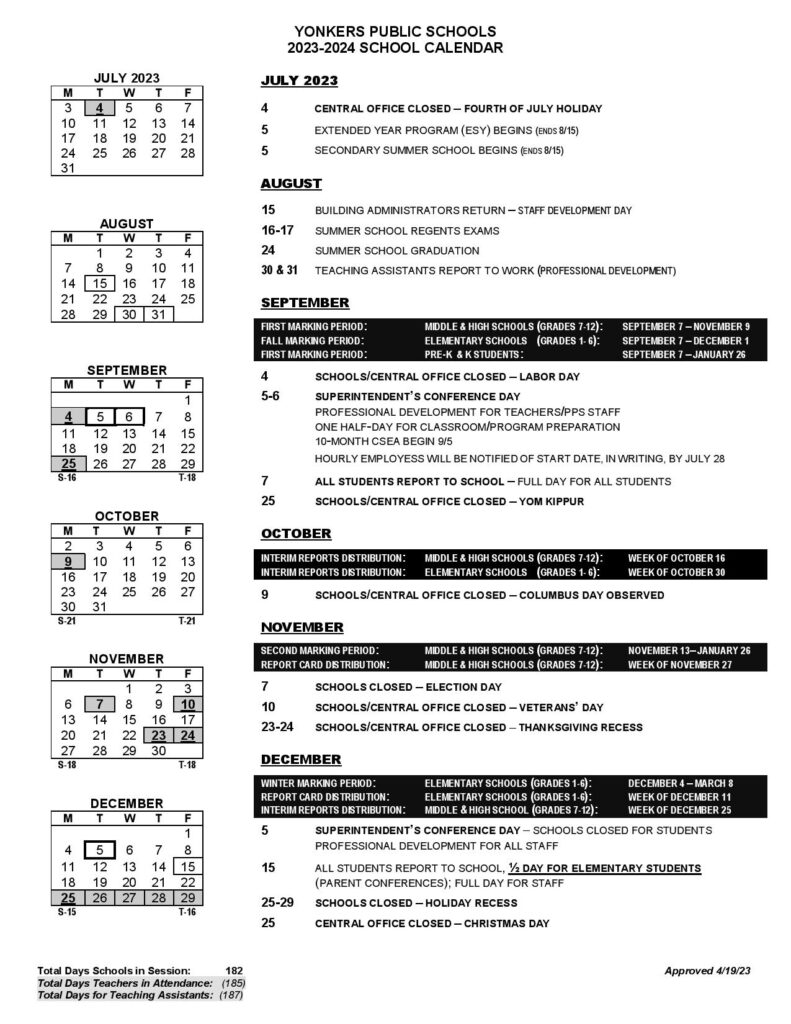 Download Links:
Yonkers Public Schools Important Dates
Students often have few questions related to the academic dates, some of the commonly asked questions are answered below for the convenience of students.
Q. When Does Yonkers Public Schools First Day and Last Day?
Ans. The first day of the school is Thu, 7 Sep 2023 and the last day is Wed, 26 Jun 2024.
Q. When is Yonkers Public Schools Thanksgiving Break?
Ans. The thanksgiving break dates are from Thu, 23 Nov 2023 to Fri, 24 Nov 2023
Q. When is Yonkers Public Schools Christmas/Winter Break?
Ans. The Christmas break dates are from Mon, 25 Dec 2023 to Mon, 1 Jan 2024
Q. When is Yonkers Public Schools Spring Break?
Ans. The fall break dates are from Mon, 25 Mar 2024 to Mon, 1 Apr 2024
About Yonkers Public Schools
Yonkers Public Schools is the fourth largest school district in New York State, located in the lower Hudson Valley, immediately north of New York City. The school system has an enrolment of 25,375 Students Prekindergarten-Three to Grade Twelve Students in District Schools and Out of District Programs. The school district is organized and governed according to New York State Education Law.
Download and print the school calendar to the Yonkers Public Schools for this school year. You can download a school calendar from the official website of the school and take a print-out for your own use.
Important Note: newschoolcalendar.com is not the official website of any school, this is just an informational website that provides information related to school calendars and holidays. Do check your school's official website for an up-to-date and updated school calendar.