Are you here in search for an assignment tracking template? Your search is over because tracking templates are shared here for all students who wants to track their assignments or projects. It's easy to feel overwhelmed when there are plenty of tasks to take care of, confusion arises when we don't know where to start, you might be struggling with work planning, or even don't know how to keep track of all of them, resulting in poor performance and bad marks.
Having an assignment tracker helps you to keep track of every task and remain organized or get hold of all your assignments and complete them on time. Check out the Assignment Tracking Template, download it, use it, and see how helpful it is. Assignment tracking is as important as planning, therefore, you must track your work or tasks properly.
Assignment Tracker Template
Assignments are a part of student's life. You will have to submit your assignments on time in order to secure good marks. We understand the overload of work that's out there in a student's life and to help you out we're providing these templates that will help you in keeping a track of all your assignments.
There are different assignment columns on the template to log all of the important details such as:
Title of the assignment
Start Date
Class or lesson or subject such as maths, science, etc
Due date
You can download this tracker in PDF by clicking on the download link shared below the template. Take a print-out for your use.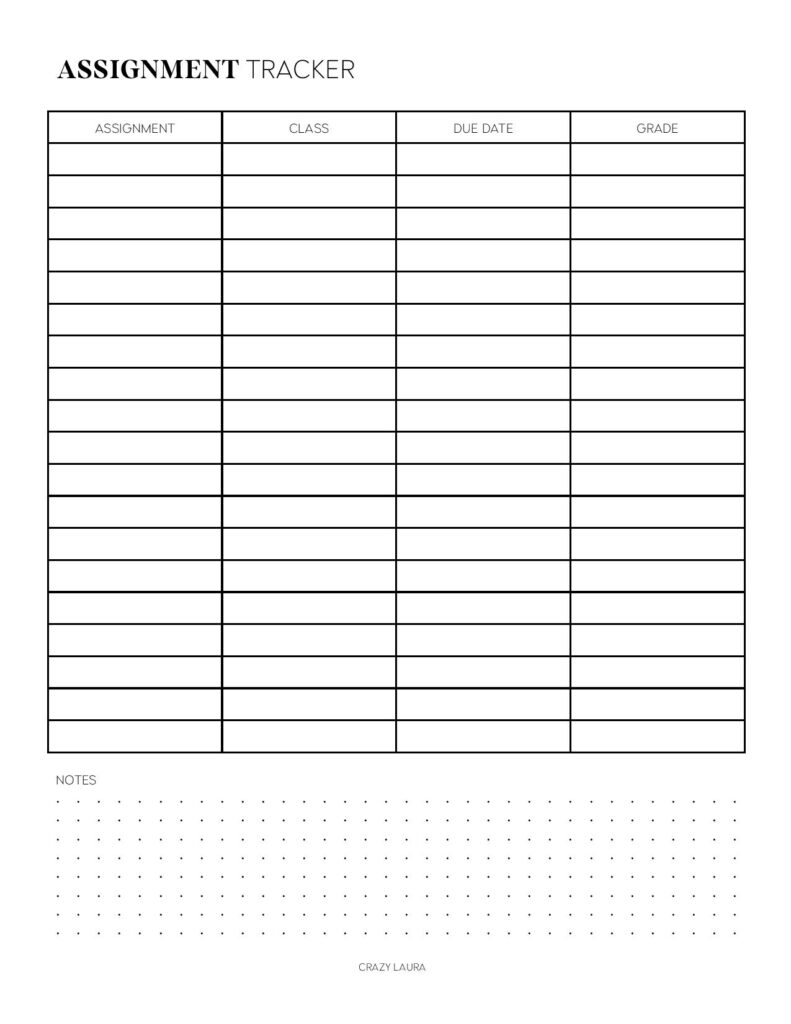 The whole purpose of sharing this tracking template is to allow students keep a track of their assignments. It's easy to use this template but still if you don't know how to use it properly then read the information shared in the next section.
How do you keep track of assignments?
As mentioned above, assignment are a part of student's life whether you are in middle school, high school, college, or university. Therefore, it's better to learn the process of planning and tracking assignments.
Now the question is how to keep your assignments organized and easy to navigate? And the answer is an assignment tracker.
Using an assignment tracker allows you to keep a check on assignment you have to work, plan for them, set your work deadlines, and schedule everything as per the due date. Mere planning is not enough, you have to execute the work plan and keep a proper track of it to ensure everything is happening as per the schedule.
Use an assignment tracker is definitely one of the great options for school and college students. With the use of template, you get to know about your duties and tasks for specific time frame.
Blank template is shared here and you can customize it as per your assignments by adding assignment details and information. A tracker needs to be consistently monitored and updated.
The whole purpose of using a tracking is to get organized and to complete or submit before the due date. We advise students to always plan their work and keep a track of them. The use of tracking templates has made the tracking process a lot more easier and more fluent.
Conclusion
Proper planning, execution, disciplined work management, and tracking has to be there in order to ensure successful completion of an assignment on or before the due date. These days there are assignment management and tracking templates which can be downloaded and used in editable and printable format. You can now keep a track of an assignment by using a template available for free download on this page.
An assignment tracker can be used for both small and big assignments. Use these templates to make a proper to-do list wherein you can prioritize the assignment work. We are hoping you find these templates useful, keep checking this site for more planning templates and school calendars.