Are you here searching for Bentonville Public Schools Calendar? If yes then check out the calendar preview below and download it for your use. You must download your school calendar as soon as it's available, all the academic dates and holiday dates are mentioned in it. A school calendar contains the academic schedule that is followed throughout the academic year, therefore, make sure to have a copy of the school calendar so you know about the upcoming academic event or holiday date. Also, the use of a school calendar is not limited to students only, there are important dates for teachers and parents as well. Grab your school calendar and start planning school work.
Bentonville Public Schools Holiday Calendar 2023-24
A good portion of a school calendar is covered with the dates of holiday breaks and students often look for them. Finding holiday dates could be a task sometimes, that's why a table is shared below that specified the dates of the Bentonville Public Schools Holiday Breaks such as fall break, thanksgiving break, Christmas/winter break, and spring break. Start planning your holiday breaks now.
Major Holidays 2023-2024
School Holidays
Starts
Finishes
First Day of School
Wed, 16th Aug 2023
Fall Break
Fri, 13th Oct 2023
Mon, 16th Oct 2023
Thanksgiving Break
Mon, 20th Nov 2023
Fri, 24th Nov 2023
Christmas Break
Thu, 21st Dec 2023
Mon, 8th Jan 2024
Spring Break
Mon, 18th Mar 2024
Fri, 22nd Mar 2024
Last Day of School
Fri, 31st May 2024
Bentonville Public Schools Calendar 2023-2024
Different type of dates are shared in a school calendar such as first/last day of school, exam dates, holiday dates, early release days, non-student days, parent teacher conference days, and much more. The preview of the Bentonville Public Schools Calendar is shared below for the academic year 2023-2024. Download and print your school calendar to get started.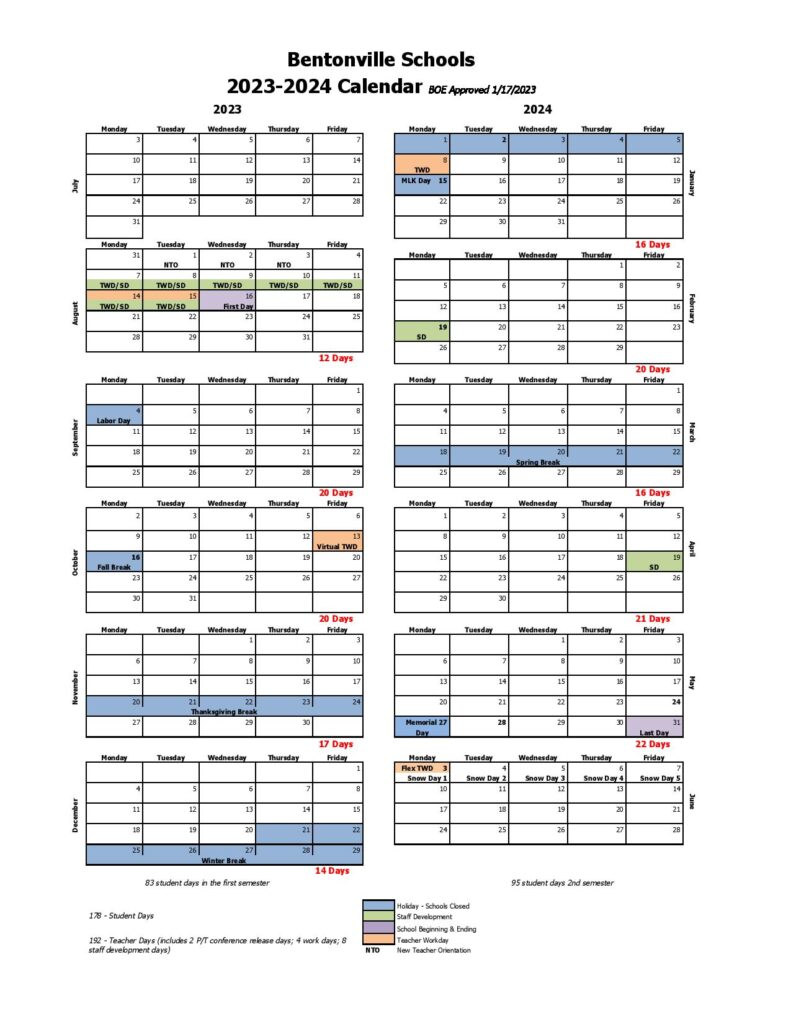 Download Links:
Bentonville Public Schools Important Dates
Below we have covered some of the most commonly asked questions related to the academic and holiday dates.
Q. When Does Bentonville Public Schools First Day and Last Day?
Ans. The first day of the school is Wed, 16 Aug 2023 and the last day is Fri, 31 May 2024.
Q. When is Bentonville Public Schools Thanksgiving Break?
Ans. The thanksgiving break dates are from Mon, 20 Nov 2023 to Fri, 24 Nov 2023
Q. When is Bentonville Public Schools Christmas/Winter Break?
Ans. The Christmas break dates are from Thu, 21 Dec 2023 to Mon, 8 Jan 2024
Q. When is Bentonville Public Schools Spring Break?
Ans. The fall break dates are from Mon, 18 Mar 2024 to Fri, 22 Mar 2024
About Bentonville Public Schools
Bentonville Schools is a comprehensive community school district serving students in kindergarten through 12th grade from Bentonville, Arkansas, in Benton County. As of the 2019-2020 school year, the district's 22 schools have a total enrollment of some 18,000 students and 1300 certified staff members.
Download and print the school calendar to the Bentonville Public Schools for this school year. You can download a school calendar from the official website of the school and take a print-out for your own use.
Important Note: newschoolcalendar.com is not the official website of any school, this is just an informational website that provides information related to school calendars and holidays. Do check your school's official website for an up-to-date and updated school calendar.