Boone County Schools Calendar: Boone County Schools is the third-largest in the Commonwealth of Kentucky by student enrolment. On this page we have shared a school calendar for the students and teachers of the Boone County Schools. The district has 15 elementary schools, six middle schools and five high schools. Boone County Schools is known for providing top notch education and a learning environment for students that allows them to learn, grow, and succeed. Planning and tracking of work schedule is essential for the accomplishment of school work goals and objectives, this is why the school board has released the school calendar for this academic year.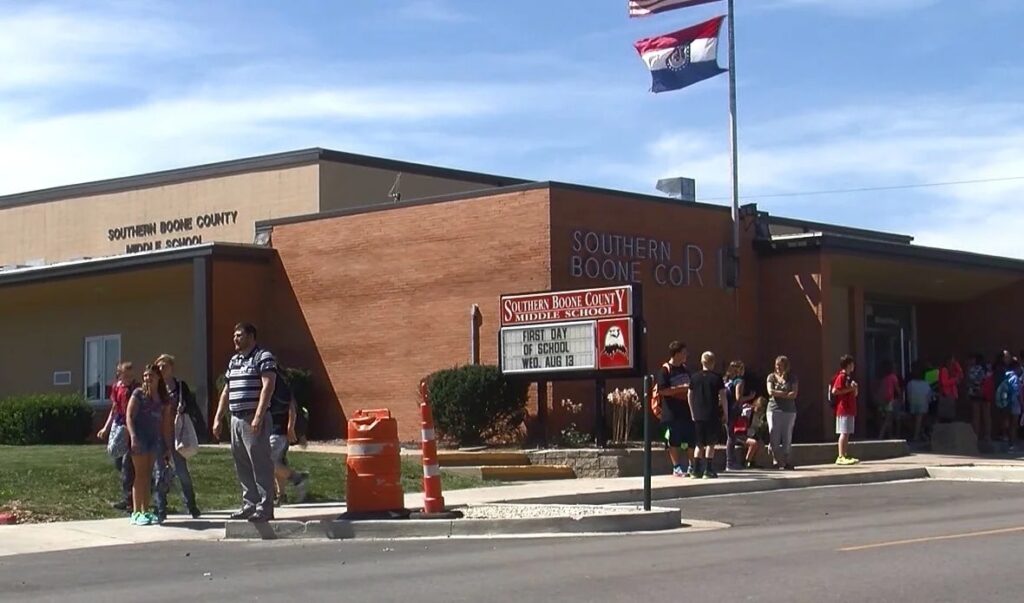 Boone County Schools are committed to ensuring every student gets good education, learning environment, and growth opportunities. Students have the options to choose from a variety of courses and opt the course they are interested in. The school system ensure a secure learning environment and allow students to participate in extracurricular activities for overall development and growth.
Boone County Schools Holiday Dates 2023-2024
The school district set high expectations for students and provides an environment that allow students to meet those expectations. Highly advanced tools and techniques are used for teaching, the mission of the school is to make students ready for the real life and compete with best minds of the world. Schools are focused on academic excellence, provide real world relevance, growth opportunities, and collaborate with parents and communities to make best decisions for the betterment of students.
School Holidays
Starts
Finishes
First Day of School
Thu, 17 Aug 2023
Fall Break
Fri, 6 Oct 2023
Mon, 9 Oct 2023
Thanksgiving Break
Wed, 22 Nov 2023
Fri, 24 Nov 2023
Christmas Break
Wed, 20 Dec 2023
Tue, 2 Jan 2024
Spring Break
Mon, 8 Apr 2024
Fri, 12 Apr 2024
Last Day of School
Thu, 23 May 2024
Do keep a check on the upcoming holidays and make sure to plan them well. Few minutes spent of holiday planning are worth it. You can see the dates of the fall break, thanksgiving break, Christmas break, spring break, etc.
Boone County Schools Calendar 2023-2024
A school calendar is an academic document that is released by the school board to update students about the academic dates, events, and holidays. This calendar acts as a communication tools between school and students. Below you can see a preview of the Boone County Schools Calendar for the school year 2023 and 2024. The download links are shared below the calendar preview from where you can download or take a print-out of the school calendar for your use.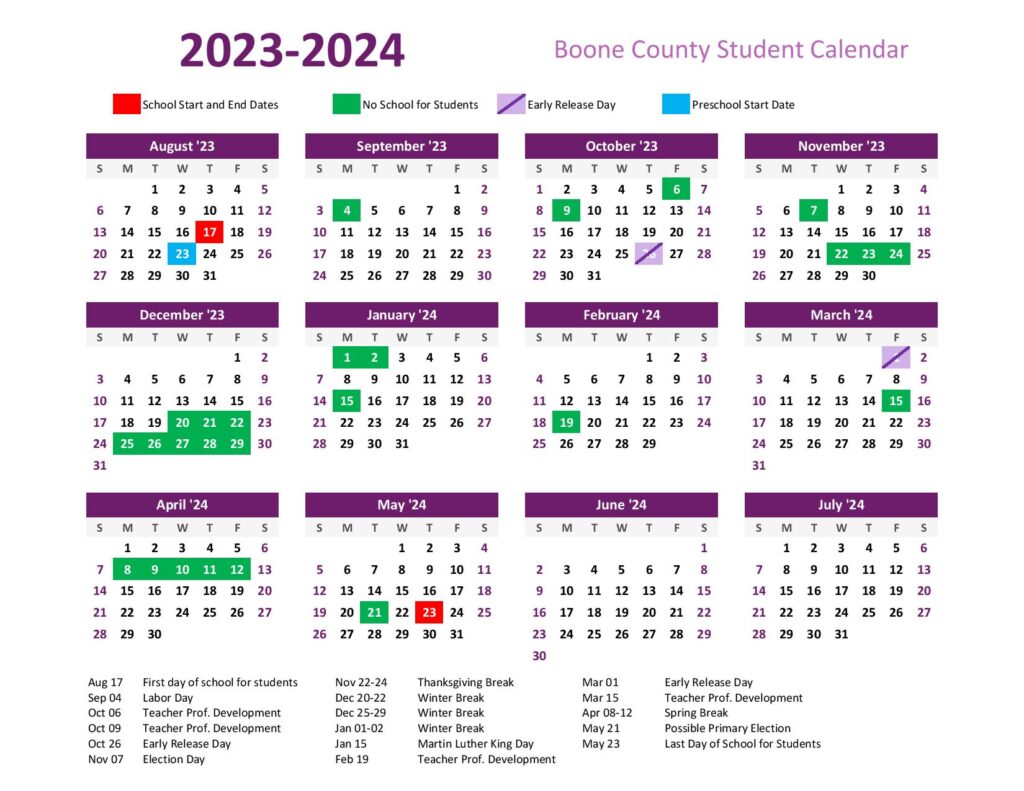 Download Links:
Boone County Schools Holidays Calendar 2023-2024
Boone County Schools is preparing today's students for tomorrow's world with the help of world class faculty and staff. There are over 20,000 students in 15 elementary schools, six middle schools and five high schools. The district takes great pride in their mission of Achieving Excellence Together.
The school district is recognized as a quality school system and this is possible because of the highly qualified teachers, leadership of the Boone County Board of Education, community members, parents, and hard working students. Apart from the academic excellence, the school system encourage students to take part in sports and extracurricular activities as well.
Conclusion
Boone County Schools is a recognized school system and great option for the families in Kentucky. Through this post, we've provided the major holiday dates and calendar preview of the school district for the academic year 2023 and 2024. Download and print your school calendar from here to keep a check on the academic dates and holidays.