If you are here in search of the Cumberland County Schools Calendar then you are at a correct page because here we have shared a calendar preview along with a link to download it. If you are studying or teaching in this school then do check out the school calendar below and download it for your use in a printable format. A school calendar works the best when it comes to keeping a check on the academic dates and planning the school work activities. We advise students to keep a check on the school calendar and plan their daily working schedules accordingly.
Cumberland County Schools Major Holiday Breaks
The dates of the Cumberland County Schools Major Holiday Breaks are shared in a table below. You can see the dates of the Fall Break, Thanksgiving Break, Christmas Break, Spring Break, etc. Plan all your major holiday breaks and make the most out of them. A complete school calendar preview is shared in the next section.
2023-2024 Major Holidays
School Holidays
Starts
Finishes
First Day of School
Mon, 28 Aug 2023
Fall Break
Mon, 23 Oct 2023
Tue, 24 Oct 2023
Thanksgiving Break
Wed, 22 Nov 2023
Fri, 24 Nov 2023
Christmas Break
Wed, 20 Dec 2023
Wed, 3 Jan 2024
Mid Winter Break
Mon, 19 Feb 2024
Tue, 20 Feb 2024
Spring Break
Fri, 29 Mar 2024
Fri, 5 Apr 2024
Last Day of School
Fri, 24 May 2024
Cumberland County Schools Calendar 2023-2024
Check out the preview of the Cumberland County Schools Calendar for the academic year 2023-2024. All the important academic dates are mentioned in a school calendar including holidays. A student must have a copy of the school calendar because it helps in the process of academic work planning and allow students to accomplish their school work goals and objectives.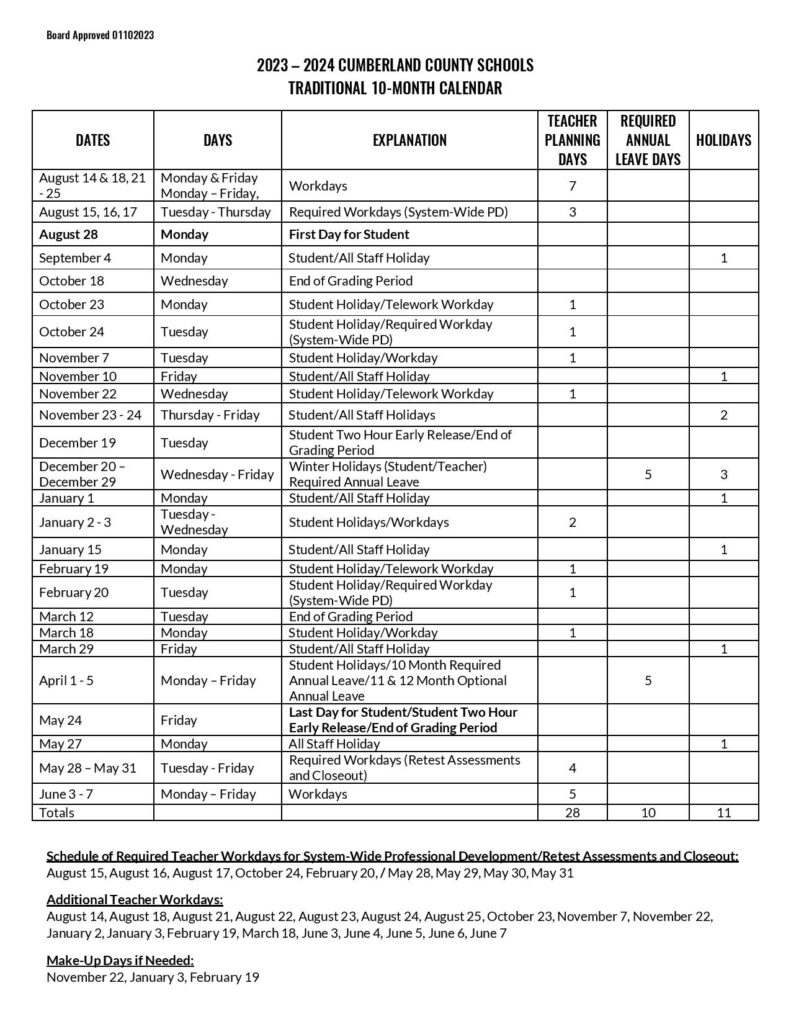 Download Links:
About Cumberland County Schools
Cumberland County Schools (CCS) is a school district encompassing the entirety of Cumberland County, North Carolina, United States. Cumberland County Schools is the 4th largest school system in the state and 78 in the country. The district serves most areas for grades PK-12.
Now you have a school calendar of the Cumberland County Schools for this academic year. You can download a school calendar from the official website of the school and take a print-out for your own use.
Important Note: newschoolcalendar.com is not the official website of any school, this is just an informational website that provides information related to school calendars and holidays. Do check your school's official website for an up-to-date and updated school calendar.