Davidson County is located in the Piedmont area of North Carolina. The mission of the school district is to create a rigorous and relevant learning environment for all students and allow them to grow academically under the guidance of expert teachers. The school believes in building strong personal relationships that empowers students for success and make them ready to compete with the global students. Recently, the school board has released the Davidson County Schools Calendar to update students about the dates of the academic events and holidays. Students can check out the calendar preview on this page and download a school calendar for their use.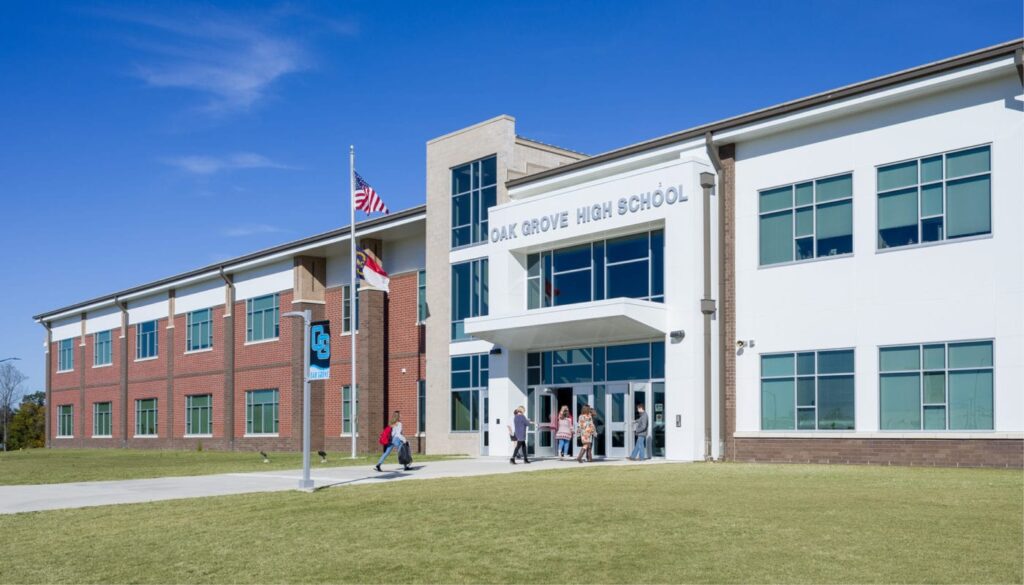 The vision of the school district is to make students capable enough to tackle or navigate the challenge smoothly and to construct success for themselves. As a student, you must use the resources and tools provided by the school for your benefit and do keep a check on the school calendar in order to plan all your academic work activities.
Davidson County Schools Holiday Breaks 2023-2024
The school district is home to 36 schools: 18 elementary, 6 middle schools, 7 traditional high schools, 1 middle/high combination school,1 career academy high school, 1 early college high school, 1 K-12 special needs school, and 1 virtual. All the schools are well reputed schools that excel in academics, athletics, and extracurricular activities. The aim of the schools is to provide well rounded education to all students and provide them a secure learning environment that allows them to learn, grow, and prepare of the future.
Major Holidays 2023-2024
School Holidays
Starts
Finishes
First Day of School
28 Aug 2023
(Mon)
Thanksgiving Break
22 Nov 2023
(Wed)
24 Nov 2023
(Fri)
Christmas Break
22 Dec 2023
(Fri)
2 Jan 2024
(Tue)
Mid Winter Break
16 Feb 2024
(Fri)
19 Feb 2024
(Mon)
Spring Break
28 Mar 2024
(Thu)
5 Apr 2024
(Fri)
Last Day of School
7 Jun 2024
(Fri)
It is essential to keep a check on the major holiday dates for planning them and that's why we have shared the dates of the thanksgiving break, Christmas break, spring break, etc. Keep a check on the holiday breaks and plan them.
Davidson County Schools Calendar 2023-2024
The importance of a school calendar cannot be understated, it is one of the most important document that a student must have in order to plan his or her academic work activities. Accomplishing academic or school work goals becomes easier once you have a work planner with you. Do get your copy of the Davidson County Schools Calendar from this page, take a print-out, and plan all your academic work activities.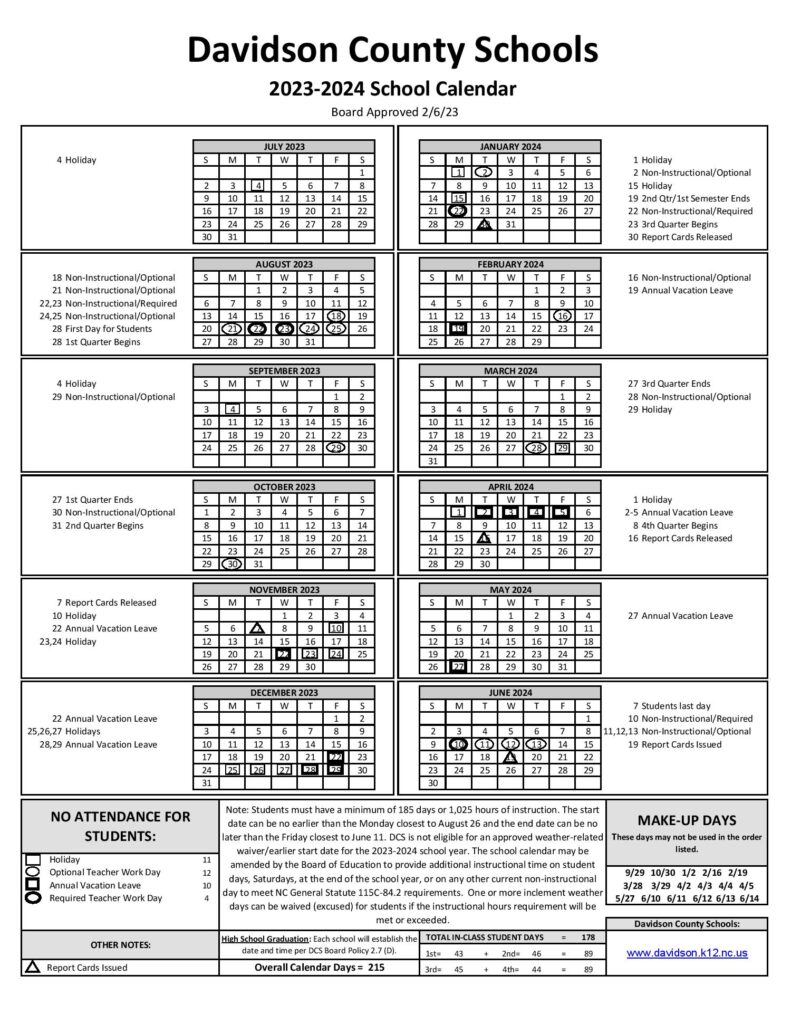 Davidson County Schools Holidays Calendar 2023-2024
The school district serves a population of nearly 18,000 students Pre-K through "super seniors". To provide high quality education, the school has employed skilled and experience teachers and faculty members who are passionate about teaching and the success of students. A supportive learning environment is provided and students are encouraged to participate in sports and extra curricular activities for the overall development.
For the betterment and growth of students, they are taught more than just standards. Opportunities are provide to students that allows them to become informed and contributing members of the socity. The district also prioritizes the well-being of its students by fostering a safe and inclusive learning environment.
Conclusion
Davidson County Schools is a School district in Davidson County, North Carolina. Through this page, we have provided the major holiday dates and school calendar of the school district. All the students, teachers, and staff members of the school district must keep a check on the school calendar and plan their academic work schedules accordingly.