DeSoto County Schools is a public school district located in Hernando, Mississippi (USA). It's a great school district option for families in DeSoto County in the Memphis metropolitan area. Through this post, we're providing DeSoto County Schools Calendar that is now available for this academic year 2023 and 2024. If you are a student or teacher in this school district then check out the school calendar here and download it. Students must acquire this habit of planning their academic work for the accomplishment of school work goals or objectives.
The school district is dedicated and committed to provide world class academic excellence and allow students to learn and grow with in a safe learning environment. The school system collaborates with families and community to ensure learning and growth opportunities for all students.
DeSoto County Schools Holiday Breaks 2023-2024
DeSoto County Schools is Mississippi's largest and fastest growing school district. Students from different cultures enrolled into a variety of academic courses offered by the school district. A lot of emphasis is put on the physical, social, and emotional well being or growth of the students, that's why there are numerous extracurricular activities and students are encouraged to participate in them. As a student, you must engage yourself in some of sport or extracurricular activity for overall growth and to maintain a good balance in life.
2023-2024 Major Holiday Dates
School Holidays
Starts
Finishes
First Day of School
3 Aug 2023
(Thu)
Thanksgiving Break
20 Nov 2023
(Mon)
24 Nov 2023
(Fri)
Christmas Break
18 Dec 2023
(Mon)
3 Jan 2024
(Wed)
Mid Winter Break
16 Feb 2024
(Fri)
19 Feb 2024
(Mon)
Spring Break
11 Mar 2024
(Mon)
15 Mar 2024
(Fri)
Easter Break
29 Mar 2024
(Fri)
1 Apr 2024
(Mon)
Last Day of School
22 May 2024
(Wed)
Planning holidays is also important, check out the dates of the major holiday breaks in a table above. Keep a check on the first/last day of school, thanksgiving break, Christmas break, spring break, etc. and plan them in advance.
DeSoto County Schools Calendar 2023-2024
We put a lot of importance on work planning and advise all students and teachers to plan their work because work planning makes you more confident and organized. Please note that academic work planning is incomplete without a school calendar, therefore, make sure to download your school calendar and then plan your school work. Below you can see a preview of the DeSoto County Schools Calendar for the academic year 2023-2024.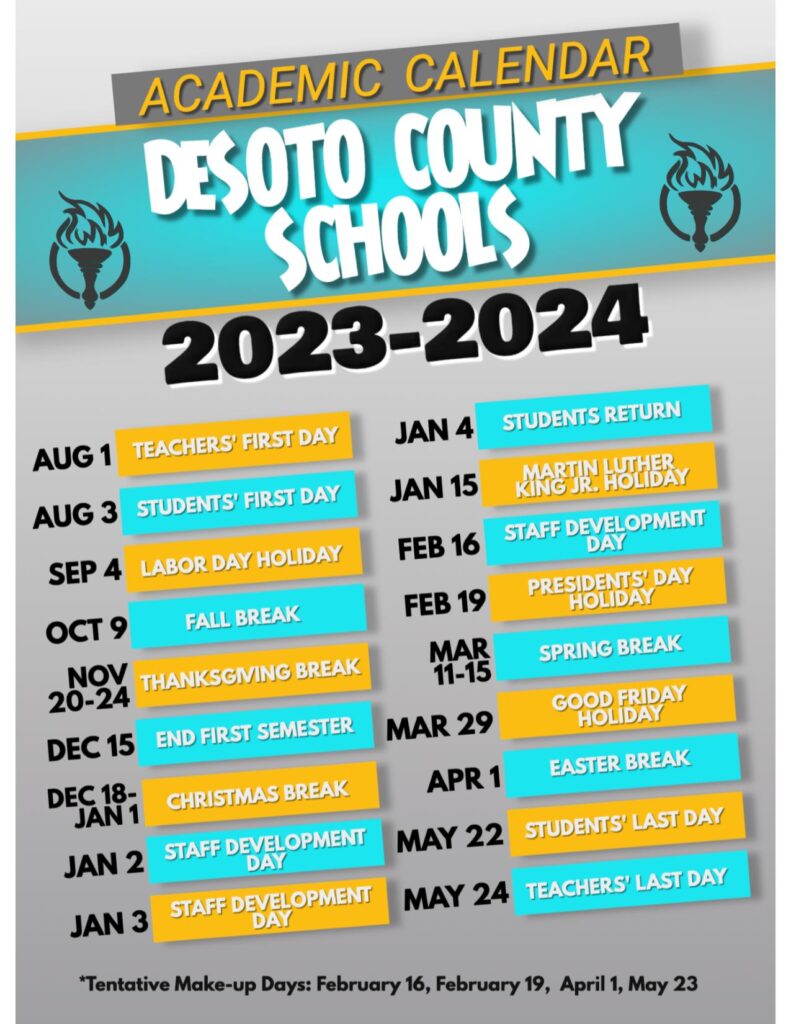 DeSoto County Schools Holidays Calendar 2023-2024
As mentioned above, DeSoto County Schools is a fastest growing school district with an enrolment of more than 30,000 students. The school district offer a lot of benefits to teachers including competitive salaries, health insurance, and retirement packages. Students get to participate in competitive athletic events and has an option to choose from a variety of academic programs.
The aim of the school is to provide well rounded education opportunities that caters to students interests and make them ready to navigate through the challenges of life and contribute to the community as well. The school system is inspiring students for success through instructional excellence and exemplary leadership
Conclusion
Through this post, we have provided the major holiday dates and calendar preview of the DeSoto County Schools for the academic year 2023 and 2024. Students and teachers of this school district must download their school calendar and begin the process of planning or scheduling their school work activities.