Are you studying in the Leon County Schools? If yes then please check out the school calendar preview on this page and download it for your use. A school calendar contains the dates of the academic events and holidays. If you are among those students who likes to be organized or focused then do make an academic work planner with the help of a school calendar. Few minutes spent on work planning are totally worth it, helps you in accomplishing your desired academic work goals and objectives.
A school calendar is one such document that is used by students, teachers, and parents as well. The entire working schedule of the academic year is mentioned in a school calendar and as a student you must download it.
Leon County Schools Major Holiday Dates
There are many holiday breaks in a year such as Thanksgiving break, Christmas break, Spring break, etc. Below you can see a table that specify the dates of these major holiday breaks. Keep a check on the holiday dates and plan them well.
2023-2024 Major Holidays
School Holidays
Starts
Finishes
First Day of School
Thu, 10 Aug 2023
Thanksgiving Break
Mon, 20 Nov 2023
Fri, 24 Nov 2023
Christmas Break
Wed, 20 Dec 2023
Fri, 5 Jan 2024
Spring Break
Mon, 11 Mar 2024
Mon, 18 Mar 2024
Last Day of School
Fri, 24 May 2024
Download Leon County Schools Calendar 2023-2024
Check out the preview of the Leon County Schools Calendar below for this academic year. You can download this calendar in PDF by clicking on the links shared below the calendar preview. If you want to keep yourself informed about all the latest changes in a school calendar then do keep a check on the official website of the school.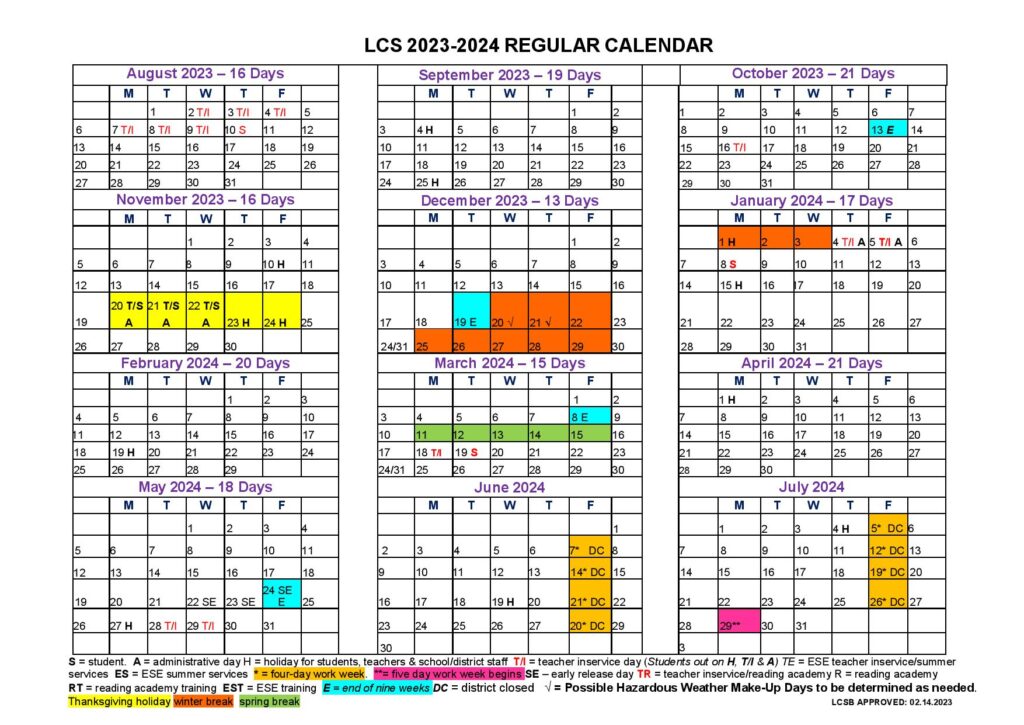 Download Links:
About Leon County Schools
Leon County Schools (LCS) is a school district headquartered in the LCS Admin Complex in Tallahassee, Florida, United States. It is the sole school district of Leon County. The mission of Leon County Schools is to prepare students to become responsible, respectful, independent learners equipped with the critical thinking skills necessary to compete in global society.
Just like any other academic year, the Leon County Schools has released the school calendar for this academic as well. If you are a student in this school then download a calendar and begin the process of planning your school work activities.
Important Note: newschoolcalendar.com is not the official website of any school, this is just an informational website that provides information related to school calendars and holidays. Do check your school's official website for an up-to-date and updated school calendar.