Are you a student in the Loudoun County Public Schools? If yes the check out the Loudoun County Public Schools Calendar preview on this page and download it in PDF format. You can take a print-out of the school calendar after downloading it from here. The purpose of using a school calendar is to keep a check on the academic dates and planning the school work activities. We advise students to always plan their school work in order to get organized and more focused. Check out the major holiday breaks and a calendar preview below.
A school calendar is a document that is approved and released by the school authority in order to update students about the working schedule for the entire academic year. Find out the school calendar for this year below.
Loudoun County Public Schools Major Holiday Dates
Check out the dates of the fall break, Thanksgiving Break, Christmas Break, and Spring Break of the Loudoun County Public Schools on a table below. Plan major holiday to make them more productive and fun as well. Refer to the school calendar in the next section for full academic dates.
2023-2024 Major Holidays
School Holidays
Starts
Finishes
First Day of School
Thu, 24th Aug 2023
September Break
Fri, 1st Sep 2023
Mon, 4th Sep 2023
Fall Break
Mon, 30th Oct 2023
Tue, 31st Oct 2023
Thanksgiving Break
Wed, 22nd Nov 2023
Fri, 24th Nov 2023
Christmas Break
Thu, 21st Dec 2023
Mon, 1st Jan 2024
Spring Break
Mon, 25th Mar 2024
Fri, 29th Mar 2024
Last Day of School
Fri, 14th Jun 2024
Loudoun County Public Schools Calendar 2023-2024
Check out the preview of the Loudoun County Public Schools Calendar for the academic year 2023-2024. The download links are available below the calendar image, do keep a check on the main website of the school in order to keep updated yourself for all the important notifications and information.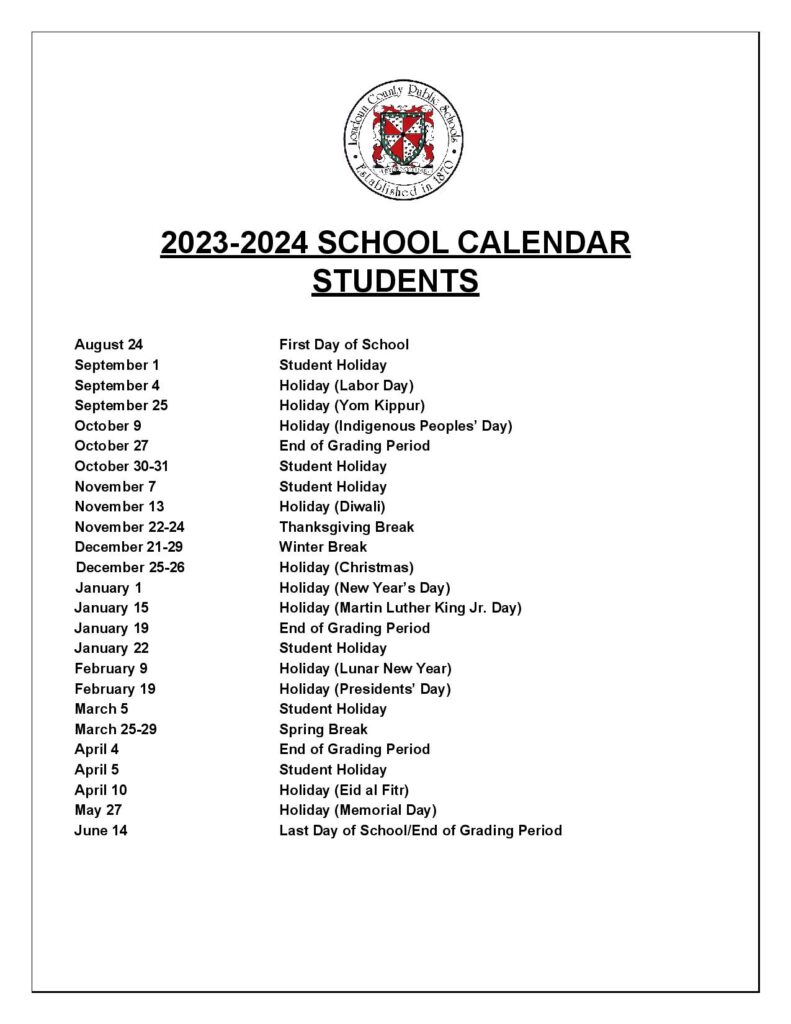 Download Links:
About Loudoun County Public Schools
Loudoun County Public Schools (LCPS) is a branch of the Loudoun County, Virginia, United States government, and administers public schools in the county. Due to rapid growth in the region, LCPS is one of the fastest-growing school divisions in Virginia and the third largest school division in the state.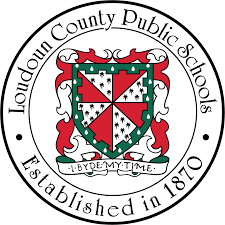 Now you have a school calendar of the Loudoun County Public Schools for this academic year. Take a print-out of this calendar and keep it with you or put it on your study table. The planning and management of school work is easier once there is a school work calendar to follow.
Important Note: newschoolcalendar.com is not the official website of any school, this is just an informational website that provides information related to school calendars and holidays. Do check your school's official website for an up-to-date and updated school calendar.