Tulsa Public Schools Calendar: Tulsa Public Schools is an independent school district in in Northeastern Oklahoma. As of 2023, the district serves 33,873 students and is governed by an elected school board. The school board has released the school calendar for this academic year in order to update students about the dates of academic events and holidays. The mission of Tulsa Public Schools is to inspire and prepare every student to achieve their desired goals and make them capable enough to make a positive contribution to the world.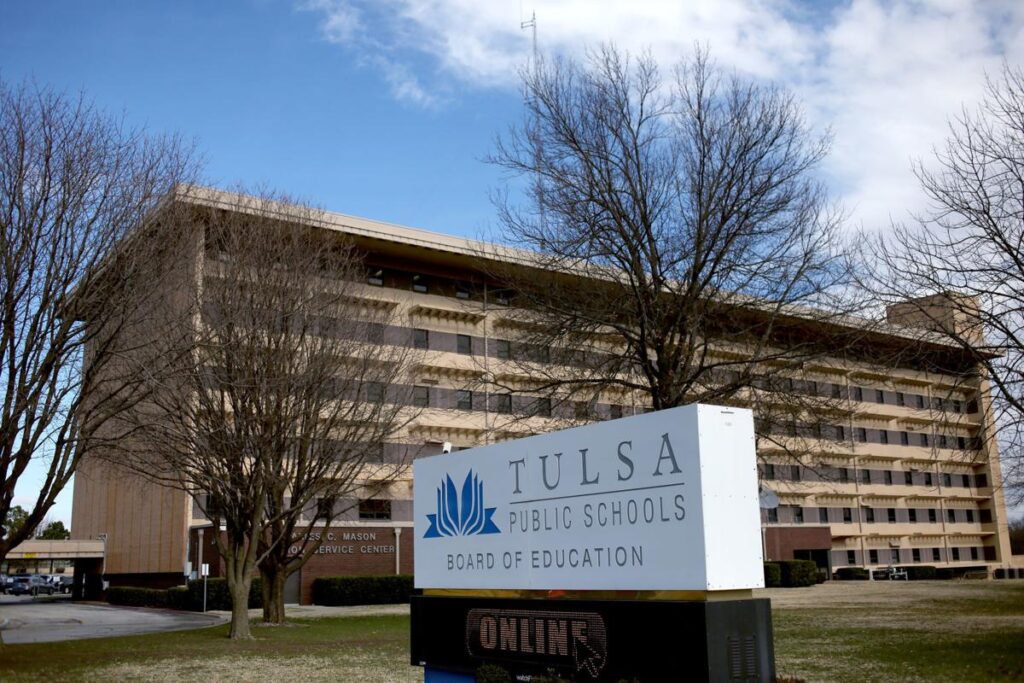 The district operates 46 elementary, 12 middle schools, and 13 high schools. Providing top notch education, learning environment, and growth opportunities are some of the primary vision of the school district. Students can check out their school calendar below for this school year.
Tulsa Public Schools Holiday Breaks 2023-2024
The school district has employed highly qualified and skilled faculty members who are helping students in every step of their academic journey and guiding them to accomplish and reach their full potential. For the betterment of students, the district has equipped teachers with the latest technology, tools, and resources that allows them to deliver quality instructions and keep students upto date with the latest and effective education techniques available out them. The school district is focusing on providing a learning environment that will allow students to grow and reach their true potential.
2023-2024 School Calendar
School Holidays
Starts
Finishes
First Day of School
Thu, 17 Aug 2023
September Break
Mon, 4 Sep 2023
Tue, 5 Sep 2023
Fall Break
Wed, 18 Oct 2023
Fri, 20 Oct 2023
Thanksgiving Break
Mon, 20 Nov 2023
Fri, 24 Nov 2023
Christmas Break
Mon, 18 Dec 2023
Tue, 2 Jan 2024
Mid Winter Break
Mon, 19 Feb 2024
Tue, 20 Feb 2024
Spring Break
Thu, 14 Mar 2024
Fri, 22 Mar 2024
Last Day of School
Tue, 21 May 2024
This table highlighted the major holiday dates of the Tulsa Public Schools for this academic year. Keep a check on all the holiday breaks and plan them well. Make the most out of your holidays by properly plan or manage them.
Tulsa Public Schools Calendar 2023-2024
The school district understand the importance of latest tools and resources for learning. The world is changing very rapidly and the ways of education are also changing. In order to make the students ready for the fast paced world, it becomes essential to teach them with the latest technology and resources so that they are ready to take on the challenges that may come in their personal or professional life. Tulsa Public Schools offer academic programs that meet the needs of all learner and provide Tulsa Public Schools Calendar that allow students to prepare their academic work schedules.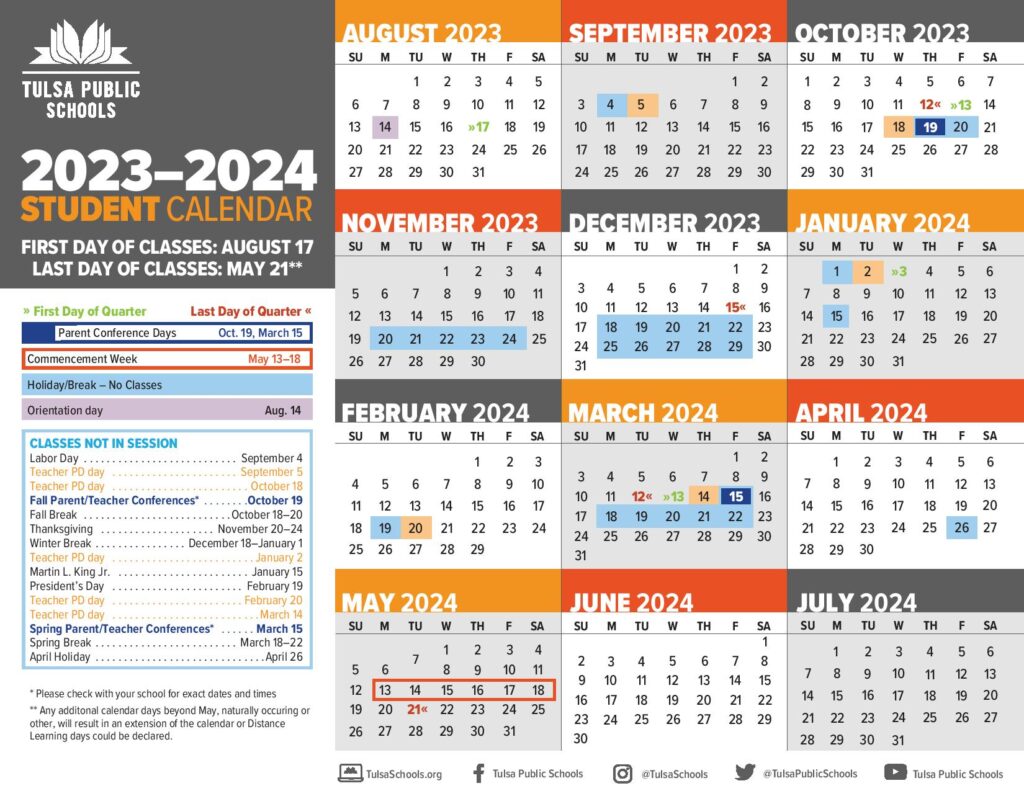 Download Links:
Tulsa Public Schools Holidays Calendar 2023-2024
Tulsa Public Schools honour the diversity, creativity, and passion of our students, elevating every student to be designers of their destiny. Apart from the good academics, the school district encourage students to take part in extracurricular activities as well for their overall development. The district allow students to take part in sports and community service which helps them in personal growth, build teamwork skills, and leadership abilities. Students have the option to explore their interests outside the classroom.
More Schools Calendar
The school is dedicate to provide a safe and learning environment to all students. Efforts are made to create an environment where all students from different backgrounds can learn and grow together. In order to make the students upto date with the learning, there are advanced teaching resources available from computer labs to online educational platforms.
Conclusion
In conclusion, Tulsa Public Schools is a great academic option for families in Northeastern Oklahoma. From this page, you can download the Tulsa Public Schools Holidays Calendar for the school year 2023 and 20234. Print out the school calendar for your own use.