Every day is not the same, some days are super productive while others are not. As a student, you should be productive every day in order to accomplish your academic goals or objectives. Now the question how can you do that? The answer is simple i.e. Weekly Work Planning, make a habit of planning your weekly work and review your work performance at the end of every week to find out the areas of improvement. For our users, here we have shared weekly planner templates in JPG and PDF format.
With the help of a printable weekly planner, you would know exactly what's work needed to done and how much time you have to complete it. The whole purpose of planning work is to get hold of work activities and accomplish the desired goals in a timely manner. Do check out the template on this page and use it
What are the Benefits of Using a Weekly Planner in 2023?
There are numerous benefits of using a weekly planners and some of them are listed below. Please note the use of a weekly planner is not limited to students only. Anyone who has some sort of work to manage can use them. Coming back to the benefits of planner, here are some:
Keep Track of All Your Work
With the help of a weekly planner you can keep a track of all your work activities from a single source only. All you need to do is take out your smart device, open the weekly planner, and monitor the upcoming tasks. You can see which work is already done and what the upcoming tasks with just a glance.
Focus on Important Work
You will learn the importance of work priority while using a weekly planner. You can focus on important work once you have work priority already decided. It's advised to spend some time in deciding the work priority and see which tasks should be completed first. Keep a track of all your important work and complete them on or before the due date.
Share Work Schedule with Other People
If you are working on a team project then it's frustrating to explain work to team members every day. This is where you need to use a digital weekly planner that can be shared with other people as well. Make a work plan and then share it with your team members or co-workers with ease.
Increase in Work Productivity
We often waster a lot of time in doing work or activity which isn't important. With weekly planner, you can remove all the unwanted work or all the distractions that are take you away from the work. Add work reminders on your weekly planner so that you get notified about the work time to time. The whole purpose of using a work planner is to get more organized and increase the work productivity.
Sense of Achievement
You will feel a sense of achievement when you have followed the weekly planner and accomplish your weekly work goals. There will be a boost in confidence every time you cross off an activity in your weekly planner or mark it as complete. You will start loving your work more once you see you are doing it properly.
Making a weekly schedule does not take much time specially when you have a planner template with you. We advise you all to check out the template here, download it, and start using it for planning your weekly work activities. Accomplish all your desired work goals or objectives with the help of a planner shared here.
Download Weekly Planner Template for Planning Weekly Work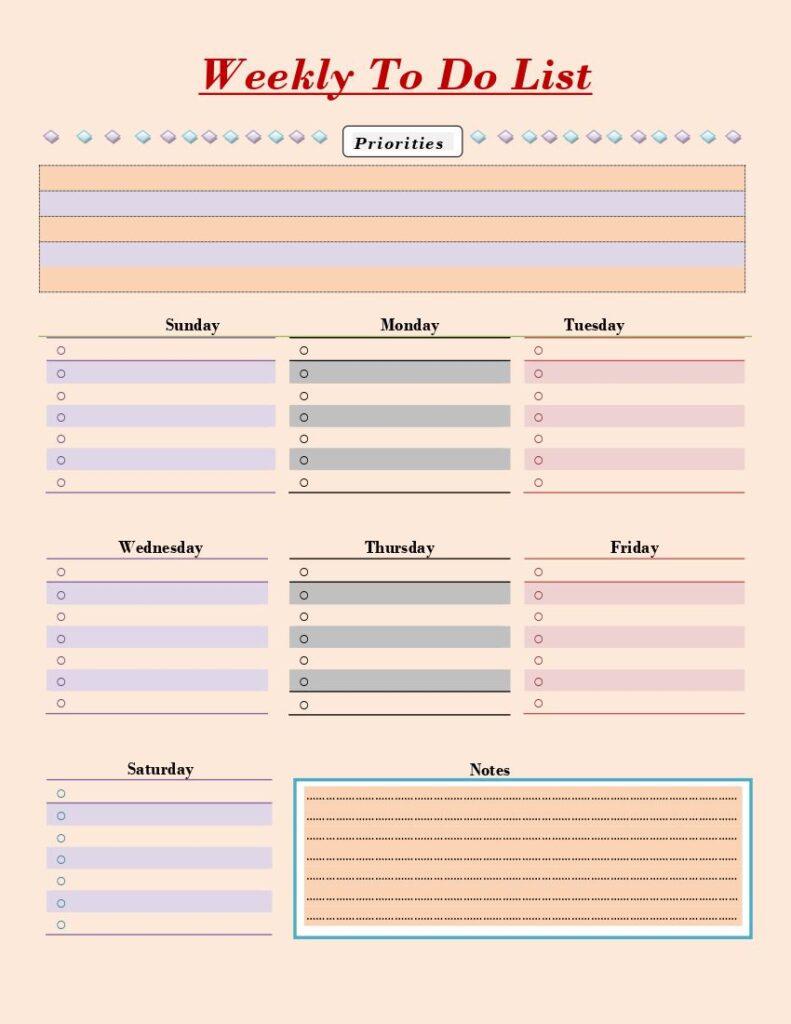 Conclusion
The importance of weekly planners cannot be denied in everyday life. Everyone can use a planner and it's super simple to use them. For the convenience of our users, we have shared the printable weekly planner template here for free download in a printable format.
Master the art of planning weekly work using the planners. Feel free to download and print the template from here and use it for planning your personal, professional or academic work. Hundreds of other useful templates are available on this site, do check them out and download a suitable one for your own use.