Arlington Public Schools is a public school division in Arlington County, Virginia. The mission of the public school is to ensure all students learn and thrive in a safe and supportive learning environments. The school system is committed to provide great learning and growth opportunities and make them ready to compete with the global students. For the convenience of students and teachers, the school board has released the Arlington Public Schools Calendar for the academic year 2023-2024. Students are required to download their school calendar.
As per the information available from Wikipedia, there are 24 elementary schools, 6 middle schools, 4 high schools, 1 secondary institution and 4 other educational programs within the school district. The school has students from more than 146 countries. The school district empowers students and encourage them to foster their dreams, explore the possibilities, and create a good future. Check out the calendar preview and major holiday dates of the Arlington Public Schools below.
Arlington Public Schools Major Holiday Breaks 2023-2024
The school system is dedicate to provide high quality education and academically challenge students in order to bring their best forward. The social and emotional needs of the students are taken care of, a safe and supportive learning environment is provided that allow students to reach their true potential. The school is consistently working to provide all the latest tools, resources, and learning opportunities according to student's unique needs. Apart from the academics, students has ample of sports and extracurricular activities to choose as per their interests.
Major Holidays 2023-2024
School Holidays
Starts
Finishes
First Day of School
Mon, 28 Aug 2023
Fall Break
Fri, 1 Sep 2023
Mon, 4 Sep 2023
Thanksgiving Break
Wed, 22 Nov 2023
Fri, 24 Nov 2023
Christmas Break
Thu, 21 Dec 2023
Mon, 1 Jan 2024
Spring Break
Mon, 25 Mar 2024
Fri, 29 Mar 2024
Last Day of School
Fri, 14 Jun 2024
Arlington Public Schools Calendar 2023-2024
Arlington Public Schools collaborates with community, families, and staff to work towards the success of students. The school is dedicated to create a safe, healthy, and environmentally sustainable learning environments for students and encourage them for community engagement. Below we have shared a preview of the Arlington Public Schools Calendar for the academic year 2023-2024. Students and teachers can use a school calendar to plan their work schedules and accomplish the school work goals or objectives.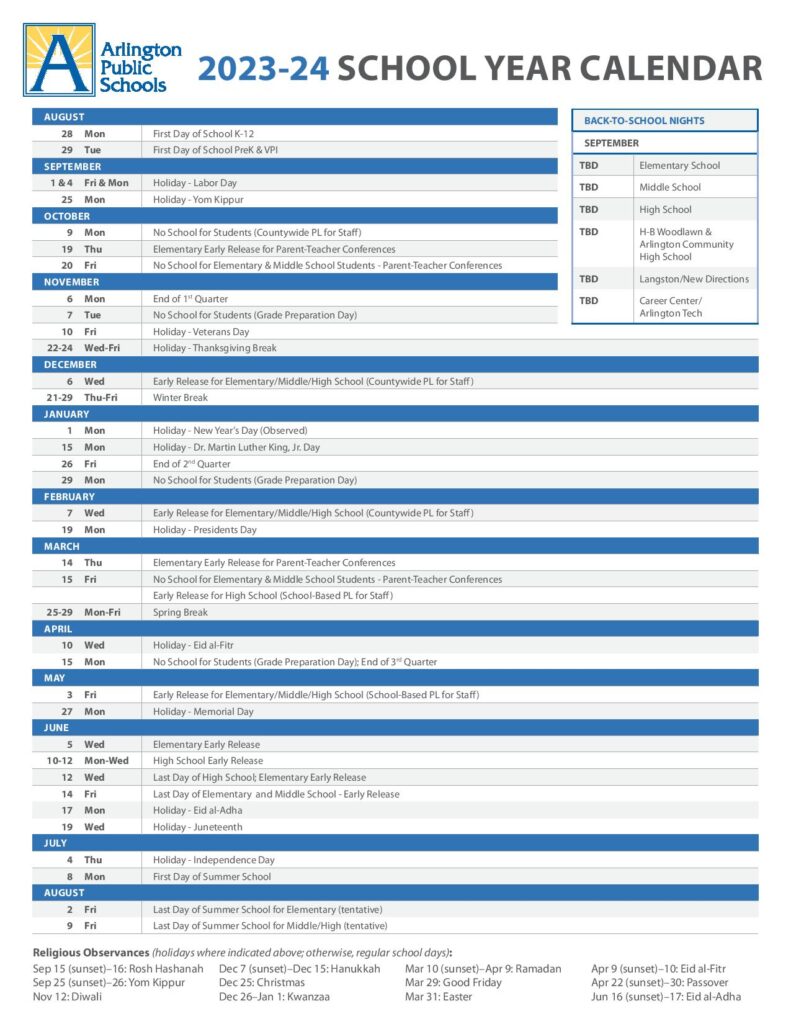 Download Links:
Arlington Public Schools Holidays Calendar 2023-2024
The school system has provided high-quality classrooms equipped with latest tools and resources. Highly qualified and skilled teachers are employed at APS to provide the best education to every student. The performance of students are monitored regularly by teachers to make sure they are learning and performing well.
More Schools Calendar
Now you have the dates of the major holiday breaks such as fall break, thanksgiving break, Christmas break, spring break, etc and you have a calendar preview as well. As a student, you must plan your school work using a school calendar. All the students are advised to keep a check on the main website of the school for all latest updates and notifications related to the school calendar and more.
Conclusion
Arlington Public Schools is know for providing top notch education, supportive learning environment, and growth opportunities. The school district is strengthening community by valuing people for who they are, nurturing diversity, and embracing the contributions of all students, families, and staff. From this page, you can download the school calendar of the Arlington Public Schools for the academic year 2023 and 2024.